Complete Pest Management In Waldorf, MD
Waldorf, MD, also referred to as "Beantown," is conveniently located between the Potomac River and the Patuxent River. We're about 20 miles southeast of Washington, D.C. and very close to Piscataway National Park, providing us with access to city adventure as well as the wonders of Mother nature. Who wouldn't want to live here? Pests, for example, are big fans of the area. These intruders seek entry into our homes and business to access food, water, and shelter, exposing us to infestations, which are a real nightmare that home and business owners don't want to deal with.
That's why we're here to deal with it for you. Destroy Pest Control is a family owned and operated company that provides residential and commercial pest solutions to properties throughout Charles County and the surrounding areas. Reach out to us today to discuss your pest control needs, and we'll get you your free estimate and inspection right away.
Home Pest Control In Waldorf, MD
You and your loved ones deserve comprehensive pest protection from the dangers of household infestations. Our team provides complete home pest control services in Waldorf, MD to over 200 local homeowners, offering coverage from infestations all year long. Our process includes:
Inspection - Top to bottom, front to back, windows to walls, crawl space and attic, conducive conditions, and active pests
Treatment - Sweeping down spider webs; power spraying the exterior, laying granules around the exterior, spot treating interior harborage areas and entry points
Follow Up - Monthly exterior maintenance, interior as needed.
Aside from our general pest control solutions, we offer bed bug control, rodent control, mosquito control, and bio-disinfecting treatments. Call today for your complimentary inspection.
Bed Bug Control: Stop Bed Bugs In Your Waldorf Home
A bed bug infestation is a real nightmare for homeowners, and it's a problem that no one wants to tackle. These parasitic pests can spread throughout your house very quickly, and the situation can become unmanageable in a matter of days. When it comes to effective bed bug control for your Waldorf home, there are some ways you can be proactive:
Cover your box springs and mattresses with protective encasements that keep bed bugs out.

Eliminate clutter around your house, reducing conducive hiding spaces.

Inspect items before bringing them inside (especially second-hand items like furniture and clothing).

Steam clean all curtains, upholstery, and other large fabric items.

Wash and dry all bedding and linens on high heat to kill off any bed bug activity.
While the above steps can help prevent bed bug activity, the most effective is to seek out professional assistance. Destroy Pest Control provides complete bed bug detection and elimination services in Waldorf, MD, and we guarantee a bed bug-free zone you'll feel good about. Contact us today to protect your home.
How To Avoid Spiders In Waldorf Commercial Facilities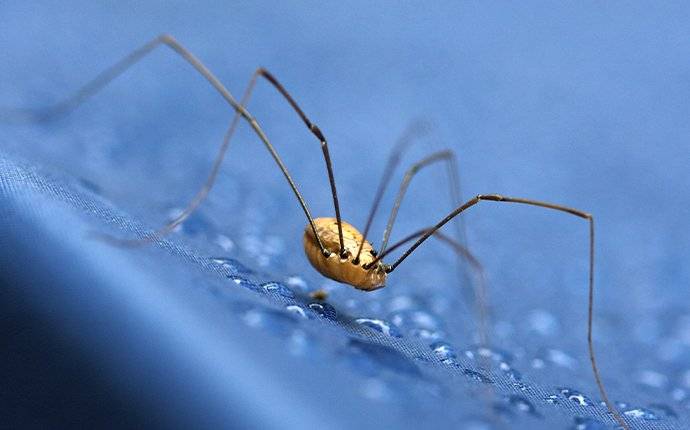 If you own a business here in Waldorf, it's important to be aware of your spider control needs. Something you should know about spiders is that they're attracted to light, other insects (their food source), and sources of moisture. So, taking care of these three things is a good place to start in your effort to avoid a spider infestation. Here are some things you can do:
Examine weatherstripping and replace if damaged.

Install door sweeps.

Install or repair window and door screens.

Keep the exterior porch lights off.

Keep vegetation cut at least five feet back from your house.

Keep your yard well-trimmed and neat.

Reduce clutter and keep the house clean.

Reduce excess moisture (leaky pipes, gutters, etc.)

Remove food sources and store food properly.

Take the trash out regularly and keep it outside in sealed bins.

Use caulk or foam to seal up cracks and crevices.
The best way to effectively protect your property from spider infestations is to call in the pros. The team at Destroy Pest Control is here to help. We will identify all areas of the infestation and eliminate the problem from the inside out. Contact us today, and one of our pest professionals will walk you through our spider control and prevention services.
Commercial Pest Control In Waldorf, MD
The most effective way to protect your Waldorf business from an infestation is to contact the pros. Destroy Pest Control protects many kinds of facilities, ranging from hospitality, and multi-family housing, to warehouses, schools, and office spaces. Our commercial pest solutions provides:
Detailed guidance regarding federal and state laws and regulations.

Communication with our customers to review realistic expectations and pesticide applications

Innovative pest control techniques, offering green and eco-friendly pest treatment options.

Reliable commercial pest protection that prioritizes complete customer satisfaction.

We offer ongoing treatments to take care of the exterior and interior every month.
Whatever your pest needs, reach out to us, and we'll address the issue together. There's no problem too big or too small for us to destroy. Help us help you, and give us a call today.
Schedule Your Free Inspection
Complete the form below to schedule your no obligation inspection with Destroy Pest Control.